XINYU MOULD is a professional Aluminum die casting mould maker located in the high-end mould industrial zone in BEILUN called "Aluminium HPDC Dies Hometown" where has been globally renowned for aluminium Die Casting Dies Design & fabrication. Our experience has taught us that clear communication, precision engineering and staying current with leading edge technology ensures our customers can depend on us to manufacture superior quality, cost-effective, high-efficiency dies. The dies for light metal parts for weight reduction (Structural Parts) as well as parts for Automotive Powertrain Oil Pan , Redirector , A/C Compressor are in our competence area, and also for the other applications ,such as telecommunication, lighting, power tool, furniture...whatever the need which requires alum. die casting dies, irrespective of sophistication or size, XINYU is able to offer unparalleled die/mould solution with competitive cost but without quality compromise, for more company information, please review the following details. we are looing forward to cooperating with you.
Aluminium Die-casting Dies / Mould / Tooling

Die casting is a metal casting process that is characterized by forcing molten metal under high pressure into a mold cavity. The mold cavity is created using two hardened tool steel dies which have been machined into shape and work similarly to an injection mold during the process. Most die castings are made from non-ferrous metals, specifically zinc, copper, aluminium, magnesium, lead, pewter, and tin-based alloys. Depending on the type of metal being cast, a hot- or cold-chamber machine is used.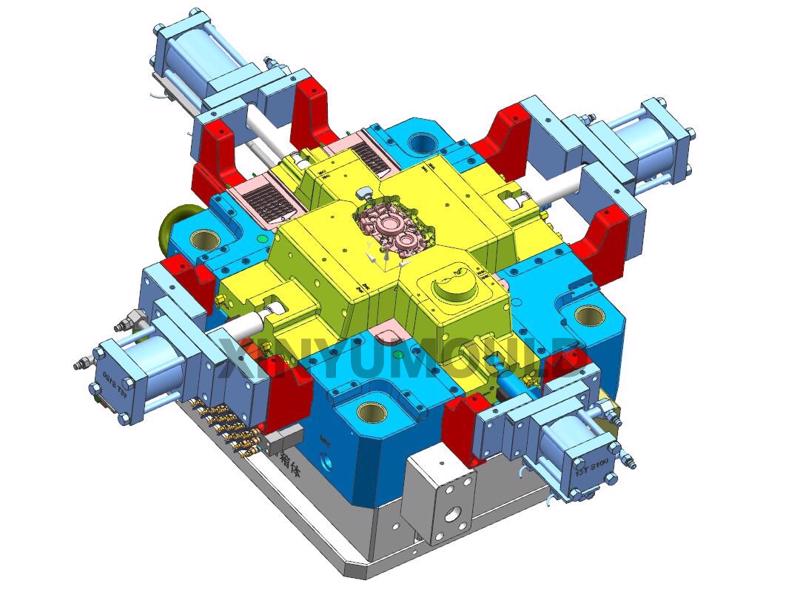 Fig. Aluminium Die-casting Mould Design
Two dies are used in die casting; one is called the "cover die half" and the other the "ejector die half". Where they meet is called the parting line. The cover die contains the sprue (for hot-chamber machines) or shot hole (for cold-chamber machines), which allows the molten metal to flow into the dies; this feature matches up with the injector nozzle on the hot-chamber machines or the shot chamber in the cold-chamber machines. The ejector die contains the ejector pins and usually the runner, which is the path from the sprue or shot hole to the mold cavity. The cover die is secured to the stationary, or front, platen of the casting machine, while the ejector die is attached to the movable platen. The mold cavity is cut into two cavity inserts, which are separate pieces that can be replaced relatively easily and bolt into the die halves.
The density of aluminum is only one third of that of iron and steel, but its thermal conductivity is more than three times higher than that of iron. Most notably, the structural design optimization of Al substitute Steel can achieve significant weight loss for Auto industry, and the effect can be directly reduced by 50 to 100 percent. Cars use 1 kg aluminum instead of 2.25 kg steel, which can reduce exhaust gas emissions by 20 kg. it can be seen that aluminum alloys have high strength, recyclability and corrosion resistance. Low density and other high quality properties have become the first choice material for automobile weight loss. XINYU MOULD have dedicated ourselves into aluminium die casting industry over past years by designing and building alum. HPDC dies for OEMs which have the demand of light metal parts for weight reduction (Structural Parts) as well as parts for Automobile, Lighting, Power tool, Mechanical etc are in our competence area,irrespective of sophistication or size,XINYU is able to offer unparalleled die/mould solution with competitive cost but without quality compromise, warmly welcome paying the trip to XINYU MOULD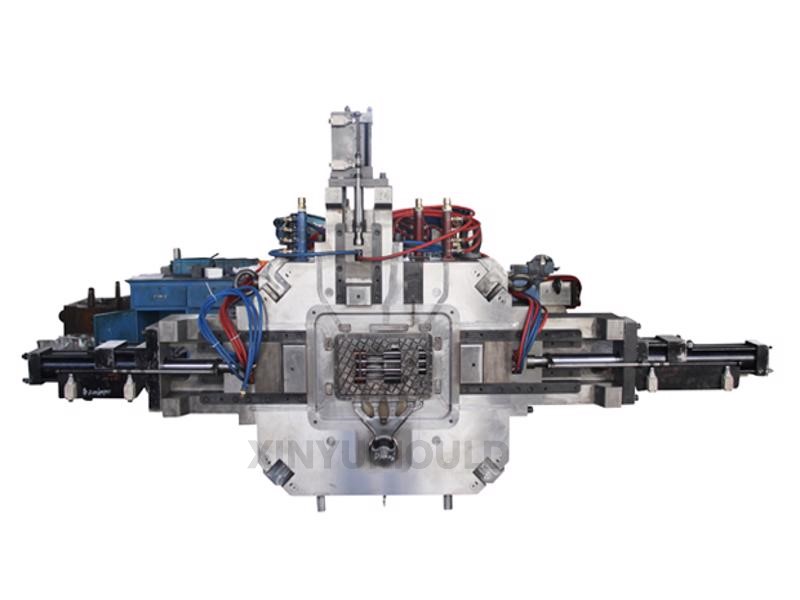 Fig. Aluminium Die-Casting Mould
Xinyu Mould Capabilities
1.Year Of Establishment:2002
2.Location:2 (One Is Brand New)
3.Land Area:3600sqm
4.Emplyees:120
5. Equipment;CNC:18 (Makino, Toshiba, Liyang ), WEDM:10, EDM:9, Spotting Machine:2, CMM:2, Gun Drill Machine:2, Die Casting Machine:7, Others:50
Xinyu Mould Technical Profile
1. Engineers In 2d&3d: 16
2. Engineers In Cnc Programming:6
3.File Format For 2d: Dwg&Dxf
4.File Format For 3d:Iges&Step
5.Software For 2d:CAD
6.Software For 3d:Simens NX & Pro-E
7.Software For Programming: Powermill
8.Software For Mould Flow: Magma
Xinyu Mould Process Control
1.MES Process Control System
2.IATF 16949 Quality System
3.Well-Trained Operators
4.CMM Inspection
1. CAE Support Magma(Lid 18175001)
2.Rich Experience In Casting Dies For Auto Structual Parts,Powertrain;Oil Pan;Redirector; AC Compressor
3.Trial Run Machines Available In House From 160t To 1600t
4.Vaccum Venting System Application In Dies
5. Partial Squeeze Skill In Dies
6.High Precision Imported CNC(5 Axis)
7.Globalized Hr Concept
1.Max Die Size:2500*2500*1800
2.Max Die Tonnage:2500t
3.Biggest Die Casting Machine:1600t
4.Most Complex Die: 11slides
5.Yearly Capacity:350sets
1.Main Market:Na;Europe;Asia
2.Main Field: Auto;Telecommunication;
Lighting;General Machinery;Power Tool
Furniture
3.Partner Offering After Sales Service:
Available In India&Us,Europe
4.Business Involved:
Aluminum Die Casting Dies
Aluminum Die Casting Components
Xinyu Mould Commercial Terms&Conditions
1. Fob Ningbo/Shanghai
2.Payment Term:Tt
3.For Dies:50% Down Payment 50% Prior To Delivery
4. For Castings: 10% Down Payment
The Rest Within 30days After b/l Date
5.Leadtime For Quotation:2days
6.Feedback For Customers' Query:24hours